May 2023
Library books are due back to school, please look around your house and bring back the kids' books.
Library Notices will be going home telling you which books to look for. If they do not turn in their books it will carry over to the next year until they are found or replaced.
Students will also be turning in their devices this month, if any devices managed to go home please bring them back to school along with the charger.
I have some good news! First, our school won a grant from the Laura Bush Foundation we received $5,000 to spend solely on books. The second piece of news is that next year I will be at YWLAP full time it is very exciting and I can't wait to see what we can do with all that time.
April 2023
This month is a very special month; it is School Library Month!📚
We Celebrate so much in April; this month we celebrate:
School Librarian Day April 4th
Easter April 9th
Fiesta April 20th-30th
National Poetry Month
National Library Week April 23rd-29th
Earth Day April 22nd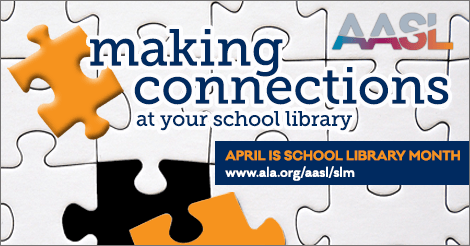 This month in the library we will celebrate libraries, earth, and poetry by making poems in poetry stations around the library.
Don't forget to have your kids log their Beanstack minutes to complete the reading challenges, Beanstack tutorial is under the tutorial tab.
March 2023
This month we celebrate reading with Read Across America. Our school is celebrating from Feb 27th to March 3rd but the week after SAISD is celebrating Read Across Las Americas, they have put together read-alouds to watch and celebrate our diverse cultures within the Americas.
From Feb 27-March 10 we are having our Read A Thon to support reading at home while supporting our library, don't forget to log those reading minutes, I cannot wait to see how much the girls read!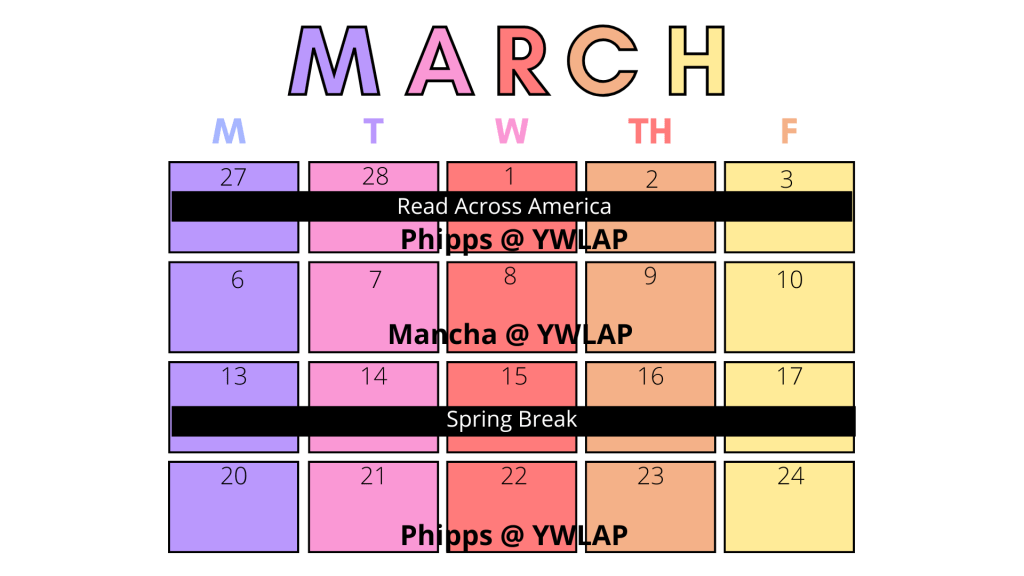 February 2023
For our lesson this month we will look to the stars and learn about the underground railroad, the girls will come home with a star map and will look for Ursa Major and Ursa Minor to find the North Star that was part of the "Drinking Gourd" that pointed north to Canada and freedom.
World Read Aloud Day is February 1st make sure to participate at home by reading a bedtime story! There are also some awesome resources that you can check out here! https://www.scholastic.com/worldreadaloudday
SAISD Million Book Challenge in Beanstack, district has been looking at our numbers in Beanstack, and we are in 5th place among all the academies, keep logging those minutes and let's see us move up to 1st! Look at how amazing our Blue Jays are doing!
January 2023
Mrs. Phipps has returned from maternity leave, so lessons in the library will resume. We will work on research skills and learn about Martin Luther King Jr.'s Life and legacy.
Make sure you are reading with your kids at home and supporting their love of reading. Minutes read at home can be logged on Beanstack in Classlink.
October 2022
This month is Cyber Safety Month, we will have lessons talking about how to keep ourselves and our devices safe while interacting with others online.
This month Mrs. Phipps starts her maternity leave so the girls will only be going to the library every other week for check outs with Miss. Mancha. We will resume lessons and Mrs. Phipps will be back January 2nd. 😊
Don't forget to help your kids log their reading on Beanstack as well!
September 2022
Bookfair time!! Best week of the year!
The Scholastic Book Fair is coming September 19-23. Most parents set up an ewallet for their kids so they do not have to send them with money. I use it for my kids all the time. The money put in becomes Scholastic Dollars for your students to spend, and anything not used can rolls over to the next Scholastic Book Fair or can be used on the online book fair.
Check out the Book Fair Homepage here, Family Checkout Time TBA
https://bookfairs.scholastic.com/bf/youngwomensleadershipprim

If you haven't yet, check out Beanstack on Classlink, the girls log their reading to earn badges and prizes.
August 2022
Welcome back! Bienvenidos!
We are starting our 2022-2023 school year with amazing new things coming to the library. This year our district got Beanstack for all of our students, it is located in their Classlink account. Through Beanstack students take part in reading challenges to earn badges and prizes from me :).
The first challenge is throughout the whole district and it is the back to school challenge! Lets see our Blue Jays win this challenge showing off what great readers we are!
Technology is being checked out to students within the first week of school. This year the district has introduced fees for when damages or loss occurs to technology under the students care. Please ensure our students are being careful with their district provided technology.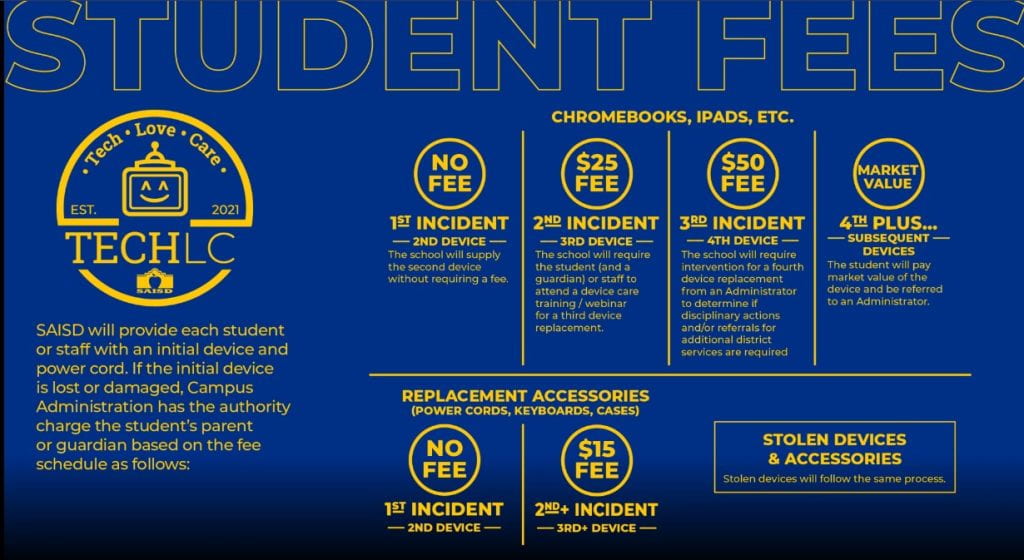 May 2022
The end of the year is coming up quickly so its time to turn in those library books. Be on the lookout for more book return slips in the kids backpacks. Devices are checked out to the girls through the library so make sure if you are borrowing a device the girls are taking proper care of it. 😊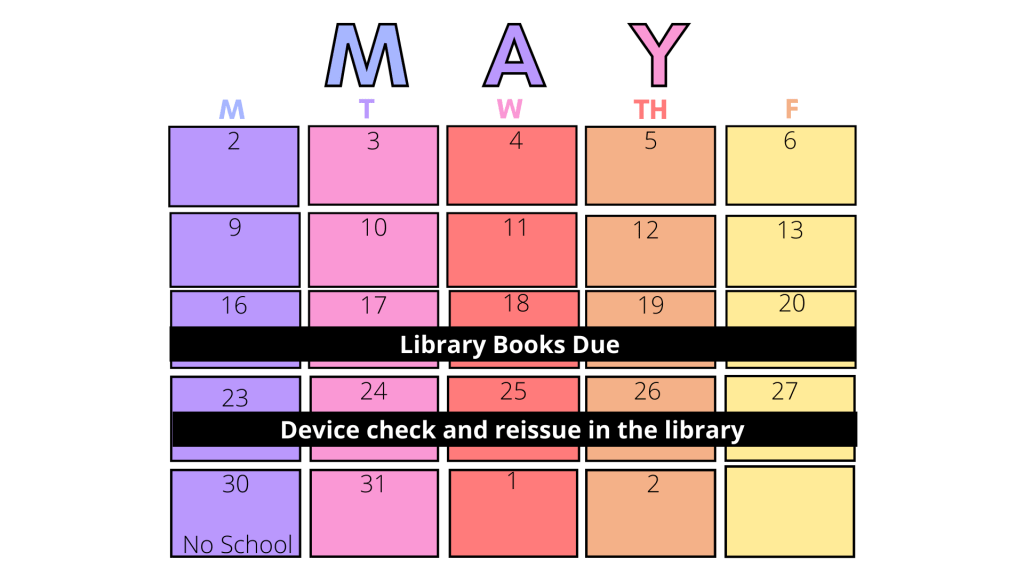 May 18th I will be holding a Kindergarten Parent Read Aloud Class, this class is to help guide storytimes at home and help us be silly. The first 15 families to sign up will get at free little Scholastic Book Box. Details and form to be posted on Dojo soon.
For our May Reading Challenge our Blue Jays are going to be caught fearlessly reading by staff or at home. When you catch your Blue Jay reading initial one the the circles on their bookmark. When it is full they can get a prize from the library and they can get a new one to fill up again. 📚
April 2022
April is a very busy month! April 3-9 is National Library Week this week we celebrate our libraries in our community and at school! April is also Poetry Month, I love poems and showing the kids the similarities of poems to some of their favorite songs on the radio. April is also when we get to celebrate Earth Day and FIESTA🎉!!
Tell your school how your librarians help you by completing the sentence above, "My library connects me to……". We love to help our students and can't wait to hear how many ways libraries helped you. Color one of these pages and bring it into the library for Mrs. Phipps to display!
March 2022
To kick off this month we are celebrating Read Across America week. We will have fun tasks and dress-up days leading us into Spring Break. Look at the flyer below to see the daily events. After Spring Break book return papers will go out, no late fees just please help your daughter find her books so others can enjoy them too! 🙂
February 2022
This month we are exploring winter looking at Weather and Thermal Energy. February is Black History Month we have a lot of wonderful biographies in our library about extraordinary figures in African American history. You can always check them out on our catalog and look for more on Classlink.
Sign up deadline is Feb 10 for the SAISD Book Club over Spring Break. Click here to sign up
Make sure you are turning in those library books and doing the Giraffe Challenge my cabinets are overflowing with awesome prizes for the kids!
December 2021
Oh my goodness we are already at the end of 2021! This month is going to fly by too!
For this month the news will be a little light but a reminder to turn on books, I have some girls that still have books out from September. Also, remember to check out all of our ebook options in Classlink over break. The girls have all the resources to keep learning over our three-week stretch!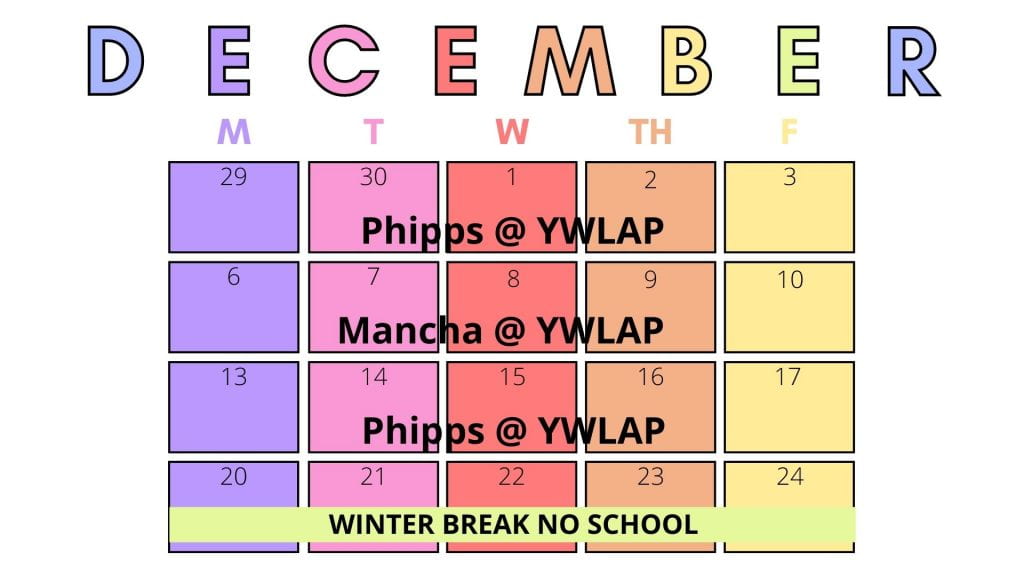 A lot of girls have been interested in the reading challenge below is a copy you can print at home and I also have copies in the library. I have amazing prizes like squishy stickers, books, and school supplies.
November 2021
The weather is starting to cool off its time to cozy up with a nice book.
This month will be a very eventful month! We are having the Scholastic Book Fair Nov 8-12 and we will be having a very special virtual author visit by Katherine Applegate who wrote The One and Only Ivan but some of the teachers remember her as the writer of Animorphs as well.
Katherine Applegate has been writing for decades and has won multiple awards writing chapter books for young readers that follow themes of kindness for others and the world around us. Along with this visit, our 3rd-grade girls will receive a free copy of the book, One and Only Ivan.
Don't forget to keep doing those Blue Jay Reading Challenges! When the girls complete 15 or more boxes they get their choice of a free book or prize from the treasure chest.
October 2021
This month we will have a lot of fo fun! Our lesson this month will be on Digital Citizenship and being Internet Safe because it is Cybersecurity month. We want to make sure our students are being good digital citizens by following good internet communication skills and protecting themself from harm. Then at the end of the month, we will do a science observation lesson with an eight-legged friend 🕷
The Spurs and Whataburger teamed up for their Whatcha Reading Challenge some teachers have signed up their students, if your student's class is not registered you can register your students here for a chance to win prizes.
September 2021
Once month down yay! This month we are starting library rotations the kids will be coming to the library weekly. We are going to incorporate STEAM lessons once a month in the library to get the kids thinking creatively and showing off their problem-solving skills.
Our new Library Instructional Assistant, Miss. Mancha is here this month! Miss Mancha and I will be switching between our two campuses weekly, below is a look at that schedule.
To get the kids working on their reading, writing, and creativity Mrs. Phipps has made a Blue Jay Reading Challenge. They will be posted monthly and if the kids complete 15 out of the 30 tasks they can get a prize from the library!
September is library card sign-up month, click here to check out the San Antonio Public Library and sign up for a library card!
August 2021
We are back at school, and the library is getting ready to host all of our lovely classes.
I am so excited about this year and all the exciting activities we will host in the library. Right now, I am getting things ready for a book club, so be on the lookout for the sign-up sheet coming soon.
The girls will come to the library weekly, make sure to check their bags for their library books and return them the next week. If the girls do not return their books, they will not be able to check out new ones. Also, always remember to take care of the library books so all of our Bluejays can enjoy the books. 🙂