May/Mayo
Library books are due back to school, please look around your house and bring back the kids' books. 
Library Notices will be going home telling you which books to look for. If they do not turn in their books it will carry over to the next year until they are found or replaced.
Students will also be turning in their devices this month, if any devices managed to go home please bring them back to school along with the charger. 
This is my last week with the students 😢 I have loved being their librarian over the last three years. I will miss all my Herff Giraffes. 💙💛
---
Los libros de la biblioteca deben regresar a la escuela, por favor mire alrededor de su casa y traiga de vuelta los libros de los niños.
Library Notices se irá a casa diciéndole qué libros buscar. Si no entregan sus libros, se transferirá al próximo año hasta que sean encontrados o reemplazados.
Los estudiantes también entregarán sus dispositivos este mes, si algún dispositivo logró irse a casa, tráigalo de regreso a la escuela junto con el cargador.
Esta es mi última semana con los estudiantes😢Me ha encantado ser bibliotecario de sus estudiantes en los últimos tres años. Extrañaré a todas mis jirafas Herff. 💙💛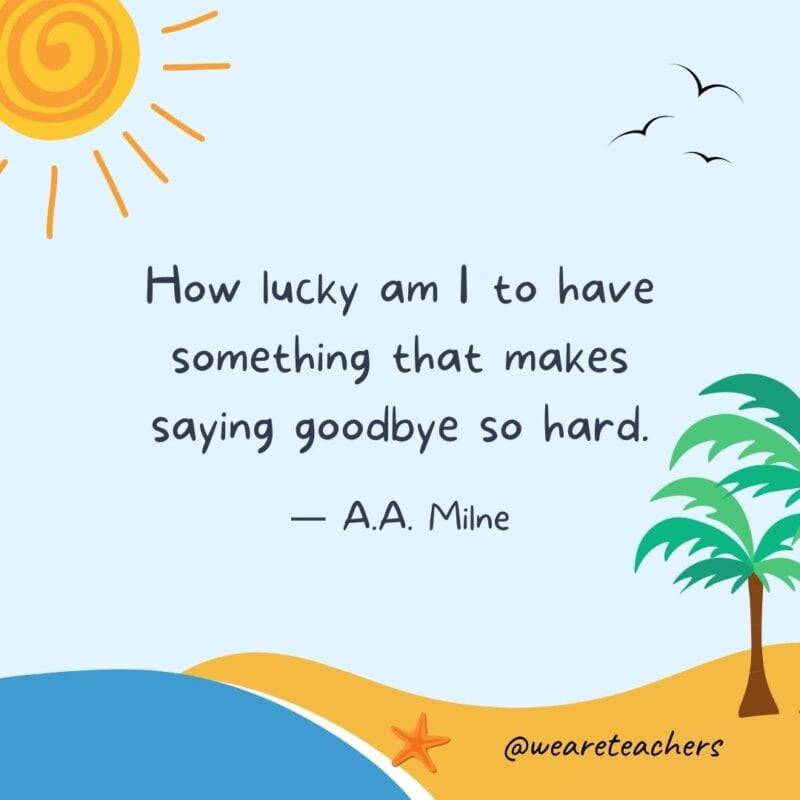 April/Abril 2023
This month is a very special month; it is School Library Month!📚
We Celebrate so much in April; this month, we celebrate:
School Librarian Day April 4th
Easter April 9th
Fiesta April 20th-30th
National Poetry Month
National Library Week April 23rd-29th
Earth Day April 22nd
This month in the library, we will celebrate libraries, earth, and poetry by making poems in poetry stations around the library.
Don't forget to have your kids log their Beanstack minutes to complete the reading challenge! The Beanstack tutorial is under the tutorial tab.
March/Marzo 2023
This month we celebrate reading with Read Across America. Our school is celebrating from Feb 27th to March 3rd but after SAISD is celebrating Read Across Las Americas, they have put together read-alouds to watch and celebrate our diverse cultures within the Americas.
Please remember to send back the library books to school; the kids can only have 4 checked out at a time now, so we have a lot of students that cannot check out until they bring books back.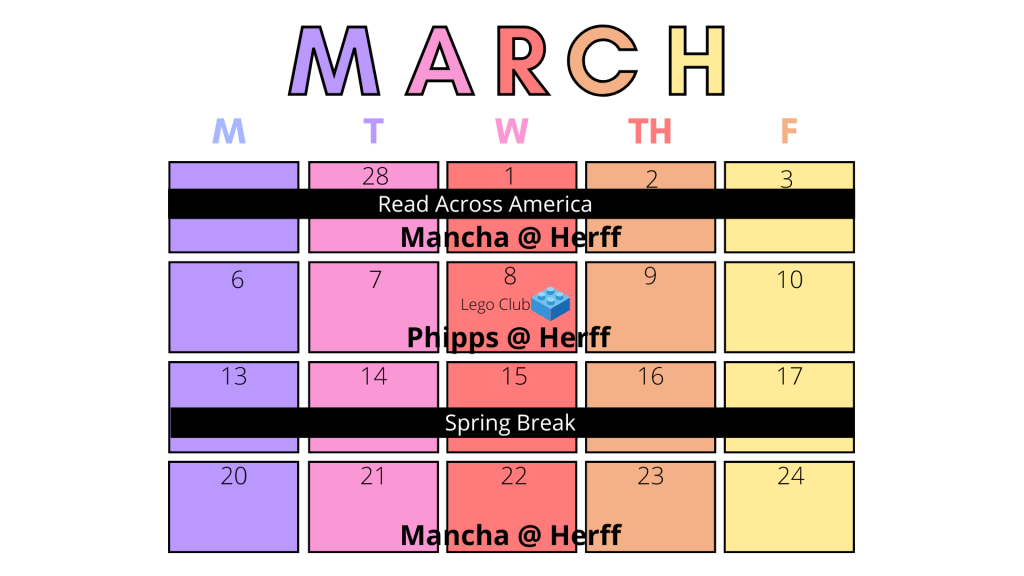 February/Febrero 2023
Scholastic Book Fair is Feb 6-10. We will have it open late Feb 9th until 5:00 pm. Visit the bookfair website here: https://bookfairs-content.scholastic.com/bf/herffacademy
This month's lesson will look to the stars and learn about the underground railroad. The students will come home with a star map and will look for Ursa Major and Ursa Minor to find the North Star that was part of the "Drinking Gourd" that pointed north to Canada and freedom.
---
La lección de este mes se trata de mirar haciaa las estrellas y aprenderán sobre el Underground Railroad. Los estudiantes volverán a casa con un mapa estelar y buscarán a la Osa Mayor y la Osa Menor para encontrar la Estrella del Norte que formaba parte de la "Calabaza de bebida" que apuntaba al norte hacia Canadá y la libertad.
World Read Aloud Day is February 1st. Make sure to participate at home by reading a bedtime story! There are also some awesome resources that you can check out here! https://www.scholastic.com/worldreadaloudday
SAISD Million Book Challenge in Beanstack, the district has been looking at our numbers in Beanstack, and we are in 4th place among all the elementary schools, keep logging those minutes and let's see us move up to 1st! Look at how amazing our Herff Giraffes are doing!
---
El Día Mundial de la Lectura en Voz Alta es el 1 de febrero. ¡Asegúrate de participar en casa leyendo un cuento antes de dormir! ¡También hay algunos recursos increíbles que puedes consultar aquí! https://www.scholastic.com/worldreadaloudday
Desafío de un Millon de Libros en Beanstack, el distrito ha estado mirando nuestros números en Beanstack, y estamos en el 4to lugar entre todas las escuelas primaries. ¡Sigue registrando esos minutos leídos y vamos a vernos subir a 1ª! ¡Mira lo increíble que están haciendo nuestras jirafas Herff!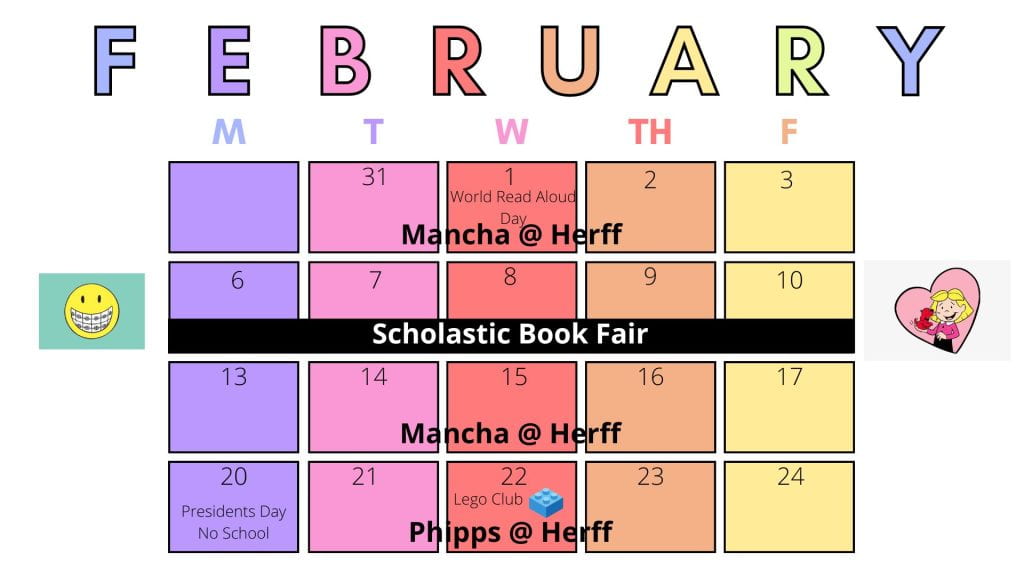 January/ Enero 2023
Mrs. Phipps has returned from maternity leave, so lessons in the library will resume. We will work on research skills and learn about Martin Luther King Jr.'s Life and legacy.
Make sure you are reading with your kids at home and supporting their love of reading. Minutes read at home can be logged on Beanstack in Classlink.
---
La Sra. Phipps ha regresado de estar fuera por razones de maternidad, por lo que las clases en la biblioteca volveran nuevamente. Trabajaremos en habilidades de investigación y aprenderemos sobre la vida y el patrimonio de Martin Luther King Jr.
Asegúrese de leer con sus hijos en casa y apoyar su amor por la lectura, los minutos leídos en casa se pueden marcar por sesión en Beanstack en Classlink.
October/Octubre 2022
This month is Cyber Safety Month, we will have lessons talking about how to keep ourselves and our devices safe while interacting with others online.
This month Mrs. Phipps starts her maternity leave, so the girls will only be going to the library every other week for checkouts with Miss. Mancha. Mrs. Phipps will be back, and we will resume lessons January 3rd.
---
Este mes es el Mes de la Seguridad Cibernética, tendremos lecciones que hablan sobre cómo mantenernos seguros a nosotros mismos y a nuestros dispositivos mientras interactuamos con otros en línea.
Este mes la Sra. Phipps comienza su licencia de maternidad, por lo que las niñas sólo irán a la biblioteca cada dos semanas para hacer el check-out con Miss Mancha. La Sra. Phipps volverá, y reanudaremos las lecciones el 3rd de enero.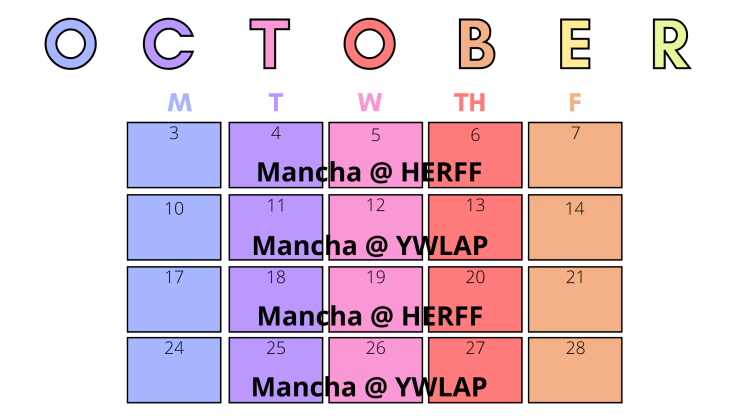 Don't forget to help your kids log their reading on Beanstack as well! No olvides ayudar a tus hijos a registrar su lectura en Beanstack también!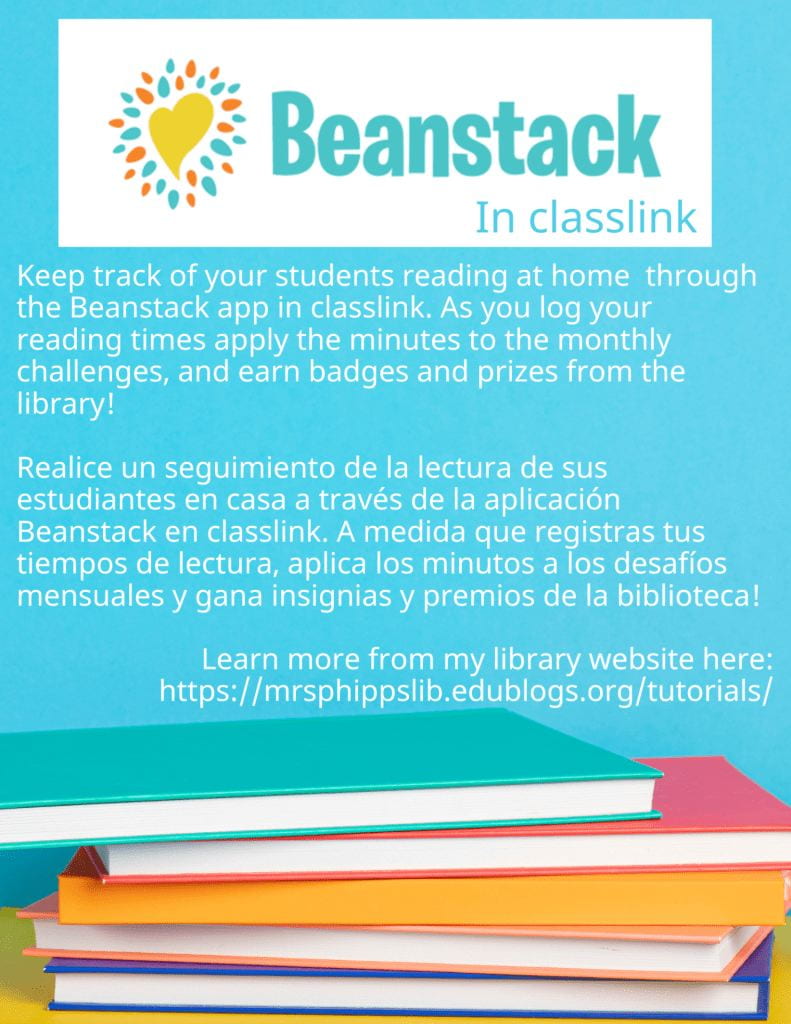 September/Septiembre 2022
The kids have started their library rotations. Be on the look out for library books in their backpacks and remind them to care for and return them after reading.
As the kids read have them log their reading in Beanstack in Classlink so Herff can win the Back to School Challenge!
---
Los niños han comenzado sus rotaciones de biblioteca. Esté atento a los libros de la biblioteca en sus mochilas y recuérdeles que los cuiden y devuelvan después de leer.
¡Mientras los niños leen, pídales que registren su lectura en Beanstack en Classlink para que Herff pueda ganar el Desafío de Regreso a la Escuela!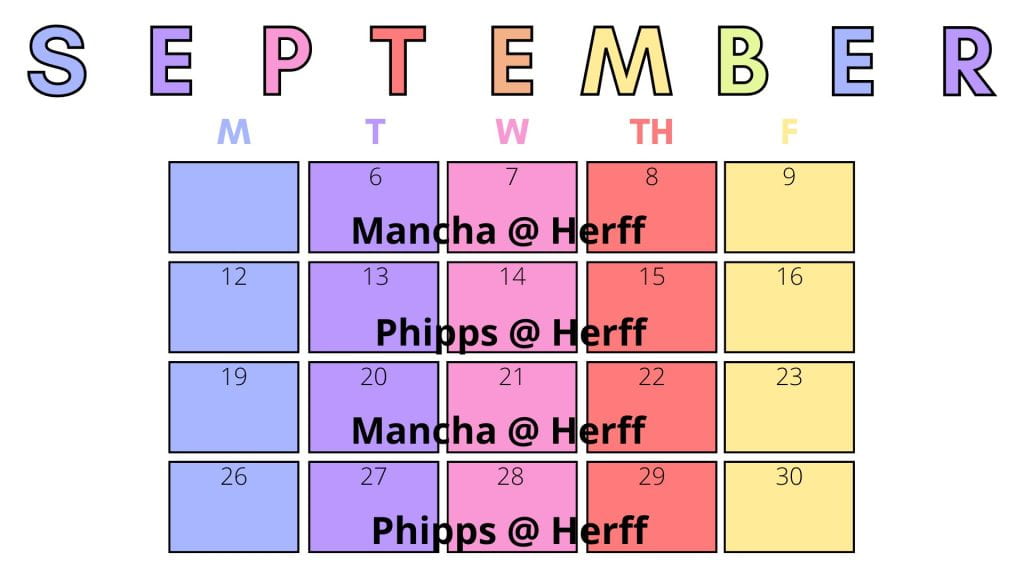 August/Agosto 2022
Welcome back! Bienvenidos!
We are stating our 2022-2023 school year with amazing new things coming to the library. This year our district got Beanstack for all of our students, it is located in their Classlink account. Through Beanstack students take part in reading challenges to earn badges and prizes from me :).
The first challenge is throughout the whole district and it is the back to school challenge! Lets see Herff win this challenge showing off what great readers we are!
---
Estamos declarando nuestro año escolar 2022-2023 con cosas nuevas e increíbles que llegan a la biblioteca. Este año, nuestro distrito obtuvo Beanstack para todos nuestros estudiantes, se encuentra en su cuenta de Classlink. Con Beanstack, los estudiantes participan en desafíos de lectura para ganar insignias y premios de mi parte.
¡El primer desafío es en todo el distrito y es el desafío de regreso a la escuela! ¡Veamos a Herff ganar este desafío mostrando lo grandes lectores que somos!
Technology is being checked out to students within the first week of school. This year the district has introduced fees for when damages or loss occurs to technology under the students care. Please ensure our students are being careful with their district provided technology.
---
La tecnología se está revisando a los estudiantes dentro de la primera semana de clases. Este año, el distrito ha introducido tarifas para cuando se producen daños o pérdidas a la tecnología bajo el cuidado de los estudiantes. Asegúrese de que nuestros estudiantes tengan cuidado con la tecnología proporcionada por su distrito.
May 2022

May 23rd to May 27th we will be having our end of the year Scholastic Book Fair! Set up an eWallet on our Book Fair Homepage, this lets the kids safely shop without cash or card.
All library books and devices need to be turned in to the library before the end of school! If you are doing SAISD Summer CAMP Summer School please let the school know so we can get them a device for SAISD Summer Camp.
This months incentive the kids will be caught reading by their teachers, when they fill in their bookmark they can come get a prize and a new bookmark 🙂
May 26th in the library I will be holding a Parent Read Aloud Class, this class is to help guide storytimes at home and help us be silly. It is open for PreK and Kinder parents and a free little Scholastic Book Box will be available with attendance.
This summer Pizza Hut has opened it Book It program to parents. Kids can get free pizza from Pizza Hut for reading books. Check it out here and enroll your students.
April 2022
April is a very busy month! April 3-9 is National Library Week, this week we celebrate our libraries in our community and at school. April is also Poetry month, I love poems and showing the kids the similarities of poems to some of their favorite songs on the radio. April is also when we get to celebrate Earth Day and FIESTA🎉!!
¡Abril es un mes muy agitado!Del 3 al 9 de abril es la semana de la Biblioteca Nacional, esta semana celebramos nuestras bibliotecas en nuestra comunidad y en la escuela. Abril también es el mes de la poesía, me encantan los poemas y mostrar a los niños las similitudes de los poemas con algunas de sus canciones favoritas en la radio. ¡Abril también es cuando celebramos el Día de la Tierra y FIESTA🎉!!
Tell your school how your librarians help you by completing the sentence above, "My library connects me to……". We love to help our students and can't wait to hear how many ways libraries helped you. Color the page below and bring it into the library for Mrs. Phipps to display!
Dígale a su escuela cómo sus bibliotecarios lo ayudan completando la oración anterior, "Mi biblioteca me conecta con……". Nos encanta ayudar a nuestros estudiantes y no podemos esperar a escuchar cuántas formas en que las bibliotecas lo ayudaron. ¡Colorea la página de abajo y llévala a la biblioteca para que la Sra. Phipps la muestre!
March 2022
To kick off this month we are celebrating Read Across America week. We will have fun tasks and dress-up days leading us into Spring Break. Look at the flyer below to see the daily events. After Spring Break we will be starting our Lego Club we will meet every third Wednesday of the month.
February 2022
This month we are exploring winter and biographies. February is Black History Month we have a lot of wonderful biographies in our library about extraordinary figures in African American history.
Este mes estamos explorando el invierno y las biografías. Febrero es el Mes de la Historia Afroamericana, tenemos muchas biografías maravillosas en nuestra biblioteca sobre figuras extraordinarias en la historia afroamericana.
Sign up deadline is Feb 10 for the SAISD Book Club over Spring Break. Click here to sign up
Make sure you are turning in those library books and doing the Giraffe Challenge my cabinets are overflowing with awesome prizes for the kids!
¡Asegúrate de entregar esos libros de la biblioteca y hacer el Giraffe Challenge, mis gabinetes están repletos de premios increíbles para los niños!
December 2021
We are halfway through the school year and we are doing amazing! Don't forget to read over break to keep those brain muscles working hard.
November 2021
My favorite month is finally here! The air is getting cooler and my favorite holiday is coming up. This month in the library we will be learning about the change in the season and why the trees change colors. We will also start a year-long lesson on the life cycle of a pumpkin.
¡Mi mes favorito finalmente está aquí! El aire se está enfriando y se acercan mis vacaciones favorites. Este mes en la biblioteca aprenderemos sobre el cambio en la estación y por qué los árboles cambian de color. También comenzaremos una lección de un año sobre el ciclo de vida de una calabaza.
The kids are doing awesome on their Giraffe Reading Challenges, I bought some prizes for the challenge from the Scholastic Book Fair so make sure you are completing the challenge for your chance to get some really cool prizes. Our Super Readers that finish the challenge also get to eat lunch in the library on a special Friday and watch a bit of a movie!
Los niños están haciendo impresionante en su Giraffe Lectura Desafíos, he comprado algunos premios para el desafío de la Feria de Libros Escolásticos, así que asegúrese de que está completando el reto para su oportunidad de obtener algunos premios realmente guay. ¡Nuestros súper lectores que terminan el desafío también pueden almorzar en la biblioteca un viernes especial y ver un poco de película!
October 2021
This month we will have a lot of fo fun! Our lesson this month will be on Digital Citizenship and being Internet Safe because it is Cybersecurity month. We want to make sure our students are being good digital citizens by following good internet communication skills and protecting themself from harm. Then Scholastic Book Fair will be here from the 18th – 22!
Click here to get more information on the upcoming book fair.
¡Este mes nos divertiremos mucho! Nuestra lección de este mes será sobre ciudadanía digital y ser seguro en Internet porque es el mes de la ciberseguridad. Queremos asegurarnos de que nuestros estudiantes sean buenos ciudadanos digitales siguiendo buenas habilidades de comunicación en Internet y protegiéndose de daños. ¡Entonces la Feria del Libro Escolar estará aquí del 18 al 22!
Haga clic aquí para obtener más información sobre la próxima feria del libro.
The Spurs and Whataburger teamed up for their Whatcha Reading Challenge some teachers have signed up their students, if your student's class is not registered you can register your students here for a chance to win prizes.
Los Spurs y Whataburger se unieron para su Whatcha Reading Challenge. Algunos maestros han firmado a sus estudiantes, si la clase de su estudiante no está registrada usted puede registrar a sus estudiantes aquí para una oportunidad de ganar premios.
September 2021
Once month down yay! This month we are starting library rotations the kids will be coming to the library weekly. We are going to incorporate STEAM lessons once a month in the library to get the kids thinking creatively and showing off their problem-solving skills.
Este mes estamos comenzando las rotaciones de la biblioteca que los niños vendrán a la biblioteca semanalmente. Vamos a incorporar lecciones steam una vez al mes en la biblioteca para que los niños piensen creativamente y muestren sus habilidades para resolver problemas.
Our new Library Instructional Assistant, Miss. Mancha is here this month! Miss Mancha and I will be switching between our two campuses weekly, below is a look at that schedule.
¡Nuestra nueva Asistente de Instrucción de la Biblioteca, la Señorita Mancha está aquí este mes! La señorita Mancha y yo cambiaremos entre nuestros dos campus semanalmente, a continuación se muestra un vistazo a ese horario.
Do not forget to help your student with their Giraffe Reading Challenge tasks, they need to complete 15 out of 30 to get a prize from the library. 🙂
No olvides ayudar a tu alumno con sus tareas del Desafío de Lectura de Jirafas, deben completar 15 de 30 para obtener un premio de la biblioteca. 🙂
September is library card sign-up month, click here to check out the San Antonio Public Library and sign up for a library card!
Septiembre es el mes de registro de la tarjeta de la biblioteca, haga clic aquí para visitar la Biblioteca Pública de San Antonio y regístrese para obtener una tarjeta de la biblioteca.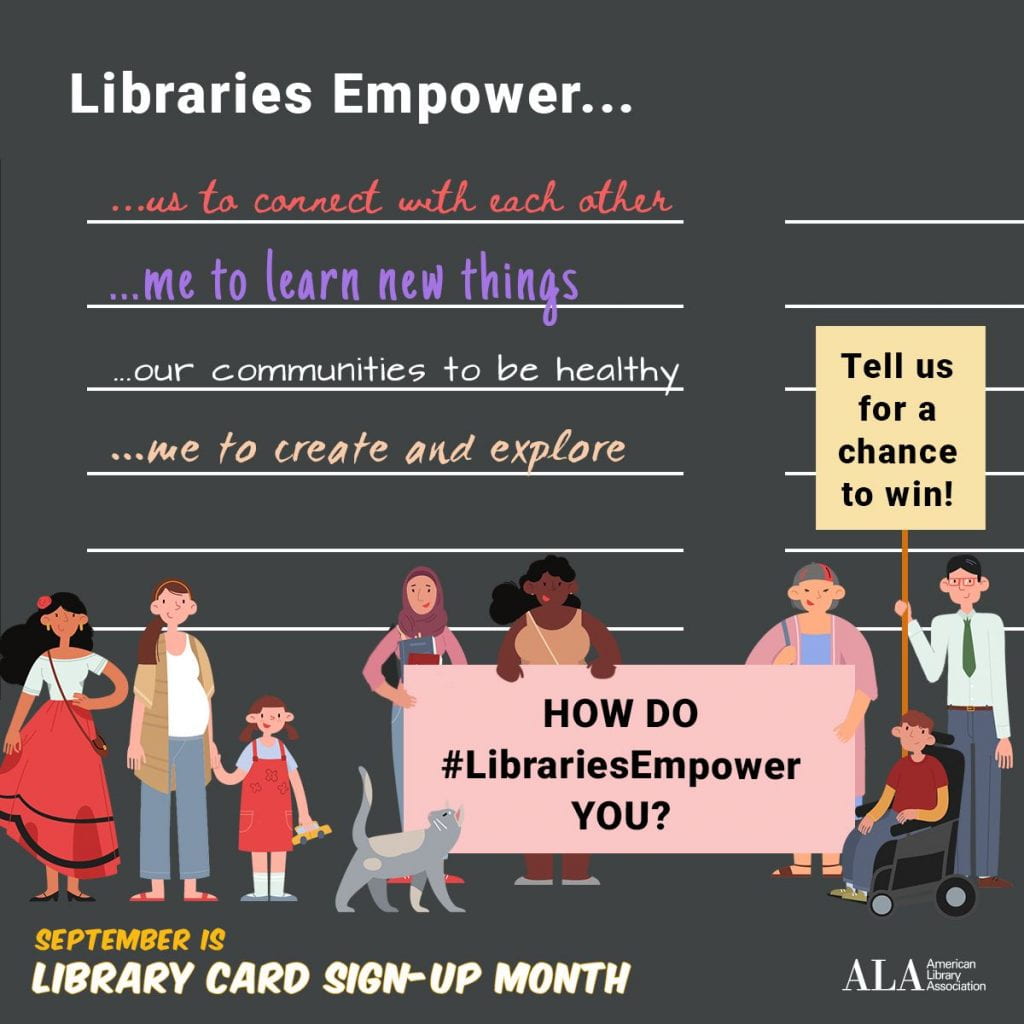 August 2021
We are back at school and the library is getting ready to bring in all of our amazing students. We are moving sections around in the library so we can fit all of our new and updated books!
Please remember to take good care of our library books and school technology when it goes home with you. Do not keep them near liquids or eat over them. We want everyone to be able to enjoy good quality technology and books at Herff Elementary.
Estamos de vuelta en la escuela y la biblioteca se está preparando para traer a todos nuestros increíbles estudiantes. ¡Estamos moviendo secciones en la biblioteca para que podamos encajar todos nuestros libros nuevos y actualizados!
Por favor recuerde cuidar bien de nuestros libros de la biblioteca y la tecnología de la escuela cuando se va a casa con usted. No los mantenga cerca de líquidos ni coma sobre los libros. Queremos que todos puedan disfrutar de una tecnología de buena calidad y libros en la Escuela Primaria Herff.
Author Visit at Twig Book Store in the Pearl